Tiffany Harrison develops speech therapy apps for the iPad and iPhone with her husband. For more information about our apps, please visit rwhtechnology.com .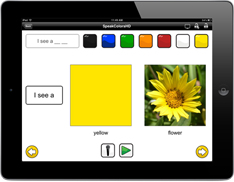 SpeakColors is designed to encourage young children to imitate and use simple sentences using colors and photos of objects. SpeakColors is for speech therapists or parents working with toddlers with speech and language delays, autism, Down syndrome and other developmental disorders.
SpeakColors does much more than just teach colors. Use SpeakColors to improve the following:

Receptive and expressive vocabulary skills
Phrase length
Spoken sentences
Speech/Articulation skills
Fluency skills
Initiation and choice making skills for colors and objects
Available in English and Spanish.
Requires iOS 5.1 or later. Compatible with iPad.

Try
SpeakColors
for FREE!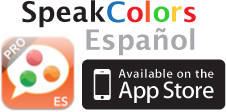 Try
SpeakColors Español Lite
for FREE!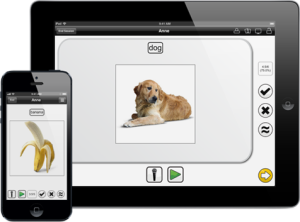 Improve speech and language skills with Speech Cards, a flashcards app for people of all ages. Each card shows customizable text and a picture. Tap on the text or picture to hear an audio recording. Use the microphone to practice speaking and then listen to get immediate feedback. Track the progress of your students by using the integrated scoring and reporting system. Create and share cards with your friends and colleagues.
Requires iOS 5.1 or later. Compatible with iPad, iPhone and iPod Touch.


Try Speech Cards Lite for FREE!
* A feature list, screenshots, and more information are available at rwhtechnology.com/apps/speech-cards.